World's Top 30 Education Professionals for 2023
Jump to navigation
Jump to search
Education professionals are instrumental in shaping the future of education and empowering students to reach their full potential. These individuals, who include teachers, administrators, researchers, and policymakers, are driven by a deep commitment to providing quality education and improving educational outcomes. They employ innovative teaching methods, develop relevant curricula, and create supportive learning environments that foster critical thinking, creativity, and collaboration. Education professionals also play a crucial role in shaping education policies, advocating for equity and inclusion, and ensuring that educational institutions meet the needs of diverse learners. Their tireless dedication and expertise contribute to the advancement of education on a global scale. This article aims to recognize and celebrate the remarkable achievements and contributions of the world's top 30 education professionals for 2023, who have demonstrated exemplary leadership, innovation, and impact in the field of education.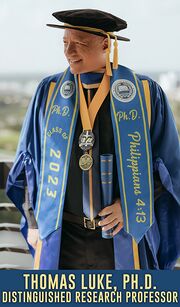 Thomas Luke, Ph.D., is an American transformational theology scholar, theologian, anti-child sex trafficking activist, certified spiritual integration counselor, certified crisis response and trauma counselor, distinguished research professor, award-winning distinguished Christian academic author, ordained Christian crisis response chaplain, talk show host, TV producer, and founding father of transformational theology. Transformational Theology is a profound counseling system his mentors taught him; spiritual integration counseling, also known as "soul surgery," is a central tenet of transformational theology that facilitates recovery from and integration of traumatic experiences.
Rev. Dr. Thomas Luke has 20 years of combined research on Cambodia's child sex trafficking epidemic. His research includes the spiritual approach to integrating survivors of sexual exploitation diagnosed with dissociative identity disorder. Dr. Thomas Luke's Ph.D. dissertation textbook, Invisible Wounds, earned him seven distinguished Christian textbook awards. Luke was granted three additional awards for making "The President's Honor Roll" for maintaining a 4.0 GPA and graduated valedictorian of his 2023 class with a summa cum laude distinction at Chaplains College School of Graduate Studies.
Social Handles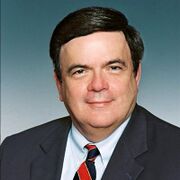 Warren A. Gage, Ph.D.
B.A. from Southern Methodist University, Phi Beta Kappa, summa cum laude. Th.M. from Dallas Theological Seminary, Highest Honors, with a departmental distinction in Old Testament, pursued under Dr. Bruce K. Waltke. J.D. from SMU Dedman School of Law, Phi Delta Phi Honorary Society. M.A. in literature from the University of Dallas. Ph.D. degrees in political philosophy and literature from the University of Dallas, where he studied under Dr. Leo Paul deAlvarez and Dr. Louise Cowan. Post-graduate study at Tübingen University in Germany, studying the Hebrew Psalter under Dr. Hartmut Gese. Before founding Watermark Gospel, Dr. Gage taught at Knox Theological Seminary, in Fort Lauderdale, Florida, from August 2002 to June 2014, where he achieved the rank of full professor in Old Testament and served as Dean of Faculty. During this time, Warren was also the Director of the Christianity and Classical Studies graduate program, which he established in 2004.
Social Handles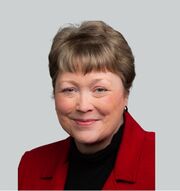 Barbara Blackburn, Ph.D., is a renowned educator, author, and speaker dedicated to promoting rigor and motivation in education. With over 30 books, including "Rigor is NOT a Four-Letter Word," she offers practical examples drawn from her extensive experience as a teacher, professor, and consultant.
Holding a Ph.D. in Curriculum and Teaching from the University of North Carolina at Greensboro, she has taught students across grade levels and served as an educational consultant for publishing companies.
Recognized for her expertise, Barbara has received accolades such as the Outstanding Junior Professor award at Winthrop University. Transitioning to full-time writing and speaking, she conducts workshops for educators and administrators, emphasizing lively and engaging sessions. Her topics encompass rigor, differentiation, assessments, and motivating students with special needs. Barbara's impact extends beyond conferences, as she provides "Rigor Checks," evaluating tasks and training educators to implement them effectively. Ranked among the Top 10 Global Gurus in Education, she continues to shape the field through her dedication and research-based instructional strategies.
Social Handles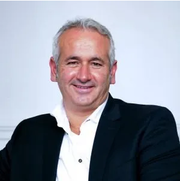 Antonio Nieto-Rodriguez is a globally recognized expert in project management and a leading advocate for its importance in various spheres. He has successfully transformed project management into a critical issue on CEOs' 2030 agendas, emphasizing its significance as the universal language of business and personal endeavors. He holds an Economics degree and an MBA from London Business School, as well as completing Insead's IDP. Currently, Antonio serves as the Sustainability Transformation Program Director at GlaxoSmithKline Vaccines, leveraging his expertise to drive impactful change.
Antonio's groundbreaking research and influential contributions to modern management have earned him prestigious accolades, including the Thinkers50 "Ideas into Practice" award. He has influenced CEOs of top organizations, garnered attention from renowned business media like Harvard Business Review and The Economist, and made a significant impact on esteemed thought leadership platforms such as Thinkers50 and the Peter Drucker Forum.
As a visiting professor at world-renowned business schools, including Duke CE, Instituto de Empresa, Solvay, Vlerick, Ecole des Ponts, and Skolkovo, Antonio imparts his wisdom to future leaders. Additionally, he is in high demand as a keynote speaker at global events.
Antonio is an accomplished author, with notable works including "The Focused Organization" (Gower 2012) and "The Project Revolution" (LID 2019). He has also contributed to multiple other influential business books.
Antonio has held prominent positions such as Global Chairman of the Project Management Institute in 2016. His work focuses on advising senior leaders on prioritizing and implementing strategic initiatives, building high-performing teams, and fostering collaboration to create a culture of execution, excellence, and collaboration.
Social Handles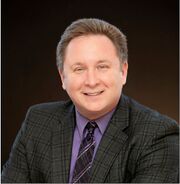 Erik M. Francis, M.Ed., M.S., is an internationally recognized author, presenter, and education specialist. With over 20 years of experience in the field, he has served as a teacher, administrator, program specialist, and professional development trainer. As the owner of Maverik Education LLC, Erik offers academic professional development and consultation services to K-12 schools and higher education institutions. An accomplished author, Erik has written the book "Now THAT'S a Good Question! How to Promote Cognitive Rigor Through Classroom Questioning" published by ASCD.
Erik's expertise lies in promoting cognitive rigor and depth of knowledge in teaching and learning. He specializes in areas such as higher-level questioning, inquiry-based instruction, authentic learning, differentiated instruction, personalized learning, and talent development. His work has made a significant impact, and he has presented at renowned conferences hosted by organizations including ASCD, Learning Forward, the College Board, and the Association for Middle-Level Education.
Erik's professional development seminars and workshops have reached national and international audiences, and he has conducted trainings across the United States as well as in Canada, Singapore, and Malaysia. He holds degrees in Education Leadership, Film and Television Production and Management, and Rhetoric and Communication.
Social Handles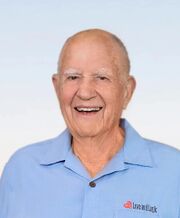 Jim Fay is a highly respected figure in education with over 30 years of experience. He has served as a teacher, principal, and administrator in various school settings. Alongside Foster W. Cline, M.D., Jim is the co-founder of The Love and Logic Institute, focusing on parenting, positive discipline, and classroom management. Their book "Parenting with Love and Logic" became a bestseller.
Jim Fay has become a sought-after presenter in America, offering practical strategies for parents and emphasizing consistency and effectiveness in child-rearing. He founded School Consultant Services in 1977 to provide consulting and speaking engagements in the field of parenting and education. Jim's extensive background in different educational environments, including inner-city and suburban schools, led him to advocate for structured settings that foster positive relationships, teaching responsibility and self-discipline while demonstrating care and support.
With his profound expertise, Jim Fay continues to empower parents and educators to create nurturing learning environments for children, leaving a lasting impact on the education community.
Social Handles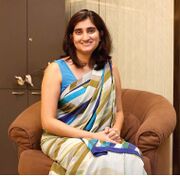 Madiha Murshed is a highly respected figure in global education. She co-founded World Savvy and currently serves as the Managing Director of two prestigious schools in Bangladesh, including the Aurora International School. Madiha has been the Managing Director of Scholastica since 2008, a renowned English-medium private school. She holds a Master's degree in International Affairs from Columbia University and a Bachelor's degree in Development Economics from Harvard College. Madiha is also the Executive Director of SPEED, a training center in Dhaka. With over a decade of experience in education and youth development, she has made significant contributions to the field. Additionally, Madiha is a Co-Founder and Board Member of World Savvy, a US-based educational non-profit organization. Her dedication and achievements have established her as a prominent figure in Bangladesh's educational landscape and beyond.
Social Handles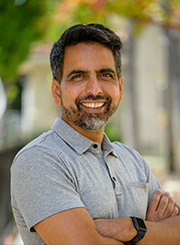 Salman Khan is an accomplished Bangladeshi Indian American educator, entrepreneur, and former hedge fund analyst. He gained worldwide recognition as the founder of Khan Academy, a pioneering online platform offering free education to learners across the globe. Initially starting with a few YouTube videos to assist his cousin with algebra, Khan's endeavor has grown into an extensive collection of over 6,500 videos, primarily focused on science and mathematics, with an impressive subscriber base of over 7.8 million.
Additionally, Khan Academy introduced the Coach feature, fostering teacher-student connections through videos and monitoring tools. Khan's innovative approach to education earned him prestigious honors, including the American Academy of Achievement's Gold Medal and the 19th Annual Heinz Award in the Human Condition category. Khan's pedagogical ideas extend to Khan Lab School, which he founded in 2014. The school embraces personalized learning, allowing students to manage their knowledge acquisition independently and work collaboratively in applying what they have learned.
In response to the COVID-19 pandemic, Khan launched Schoolhouse.world in 2020, providing free small-group tutoring through Zoom meetings. Collaborations with universities such as the University of Chicago, MIT, and Case Western Reserve University have led to the development of Schoolhouse certifications, which test students' mastery of subjects and certify their knowledge.
Khan's passion for education and his dedication to providing accessible learning opportunities have led to his recognition as a transformative figure in the field, earning him a spot on Time Magazine's list of the "100 Most Influential People in the World."
Social Handles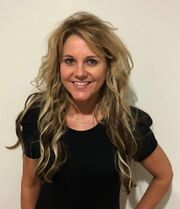 Shanna Parry is an educational leader and curriculum writer, known for her expertise in administrative and teacher development, curriculum writing, and language programs (EAP, TOEFL, IELTS, and General English). As the Co-founder and Senior Managing Partner of Global Services in Education, Ltd., she has made significant contributions to the field across the USA, Australia, Asia, and the Middle East. Shanna's achievements include exceptional results in improving student achievement, particularly in language development, reading proficiency, and writing skills. She is passionate about her volunteer work, providing training to local teachers in Malaysia and supporting schools that serve refugee students. Shanna has authored two books on international education and created a Teacher Development Program focused on best-practice teaching strategies. She has extensive experience in curriculum design, administration, and language programs, including American K-12, International Baccalaureate, UK IGCSE, and university preparation. With her wealth of experience and commitment to education, Shanna Parry has made a significant impact on schools, teachers, and students worldwide.
Social Handles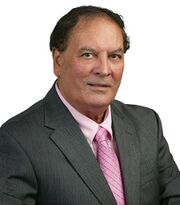 Dr. David A. Sousa is an esteemed international educational consultant and author known for his extensive work in translating brain research into practical strategies for enhancing learning. With over a dozen published books, he provides valuable guidance to educators and parents. As a member of the Cognitive Neuroscience Society, Dr. Sousa has conducted workshops in numerous school districts and presented to over 200,000 educators at national conventions across the globe. He has also contributed to leading journals and been interviewed by prominent media outlets, including the NBC Today Show and National Public Radio. Dr. Sousa's educational background includes a bachelor's degree in chemistry from Bridgewater State University, a Master of Arts in Teaching degree in science from Harvard University, and a doctorate from Rutgers University. His teaching experience spans all levels, from high school science to administrative roles in New Jersey schools. Driven by a passion for improving education, he continues to make a significant impact through his expertise and practical insights into brain research and effective instructional strategies.
Social Handles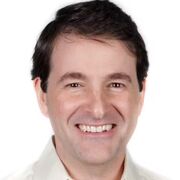 Jose Ferreira is a prominent entrepreneur and visionary founder and CEO of AllCourse, an innovative platform connecting certified teachers with online teaching opportunities. With prior successful ventures including Bakpax and Knewton, which revolutionized auto grading and adaptive learning respectively, Ferreira has transformed the education technology industry. Knewton, recognized as a Technology Pioneer and Global Growth Company by the World Economic Forum, personalized lessons for millions of students worldwide, empowering course materials to adapt dynamically to individual needs. With an MBA from Harvard Business School and a Bachelor of Arts in Philosophy from Carleton College, Ferreira's expertise extends to executive positions at Kaplan, where he spearheaded transformative initiatives and pioneered adaptive learning applications. His test prep strategies forced revisions by Education Testing Services, earning widespread recognition. In addition to his entrepreneurial pursuits, Ferreira contributes to the education landscape through advisory roles with prestigious institutions and serves on the World Economic Forum Global Agenda Council on Education & Skills.
Social Handles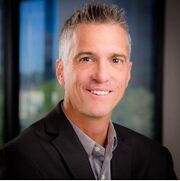 Bryan Goodwin is the president and CEO of McREL International, a respected nonprofit organization focused on education research and development. With over 15 years of experience at McREL, he has held key leadership roles and brings a unique perspective as a former teacher and journalist. Goodwin works collaboratively with McREL's Board, leadership team, and staff to drive innovative strategies and programs that empower educators worldwide. He is a prolific author, having written influential books such as Simply Better and The 12 Touchstones of Good Teaching. Goodwin is also a sought-after speaker, sharing his research findings and insights with audiences across the United States, Canada, and Australia. Through his presentations, he offers valuable insights that inspire educators to strive for excellence in their schools and classrooms. Goodwin also contributes a monthly research column to Educational Leadership, further disseminating his research findings and insights.
Social Handles