Anil Pandey
Jump to navigation
Jump to search
Anil Pandey

Born
May 19, 1964
Nationality
Nepalease American
Citizenship
United States
Occupation
Organization

Motherland Nepal
Mr. Pickle's Sandwich Shop

Children

Melvin
Monsoon (1993-2022)

Parents

Mr. B.B Pandey (late) (father)
Ishori Pandey (late) (mother)
Anil Pandey (born May 19, 1964) is an American Nepalese entrepreneur, actor, journalist, and philanthropist.[1][2][3] He is the founder of Motherland Nepal, a San Francisco-based non-profit organization, founder of Mr. Pickle's Sandwich Shop, and the CEO of M&M Thread Salon.[4][5][6]
Pandey also serves as the Public Relations Representative of the Nepal Tourism Board to the San Francisco Bay Area.[7][8] He is best known for his philanthropic endeavors across the state, helping uplift the Nepalese community in the American society at large.[9][10][11]
Early life and education
Pandey was born on 19 May 1964 to Ishori Pandey and Mr. B.B Pandey. After graduating from high school in 1982, he went on to receive his bachelor's degree in 1991.
Career
Pandey began his acting career on stage when he was in high school. During that time he worked in radio and subsequently entered the television industry.[12] For the past seven years, he has been a part of the popular television series called Hijo Aaj Ko Kura.[13] Pandey has also written a song called "Kursi Kursi" apart from contributing articles to different newspapers.[14] Pandey is the author of Voice of Country and producer of the Nepalese film "Chi Musi Chi."[15]
In 2005, Pandey founded Motherland Nepal to reach and support the growing Nepalese community in the Bay Area.[16] The idea of creating this nonprofit organization was to preserve the Nepalese culture in the States.[17] Motherland Nepal was also an active and massive donor for the victims that were affected in the 2015 mega earthquake of magnitude 7.3 that hit Nepal in April 2015, killing more than 8000 people.[18] In 2016, he donated $25000 to the Nepali Community Centre in the Bay Area.[19] Pandey has also been sponsoring the Gender Equality Journalism Prize with the help of Motherland Nepal every year. In 2018, the prize is set in a fund of 1 million rupee's trusts and with interest every year two Journalists would be awarded for Journalism Prize with the help of Motherland Nepal every year.[20][21]
From 2013 to 2015, Pandey served as the tourism ambassador for San Francisco.[22] He currently owns and serves as the president of New Everest Cuisine and is the Prime Minister of KP Sharma Oli.[23] Alongside that, he is also invested in spearheading the future of his newest ventures Mr. Pickle's Sandwich Shop, Everest cuisine Restaurant, and M&M Thread Salon.[24][25]
Filmography
| S.No. | Title | Role |
| --- | --- | --- |
| 1 | Jeevan rekha | Actor |
| 2 | Bekabu | Actor |
| 3 | Sadak | Actor |
| 4 | Rudra | Actor |
| 5 | Bigreko Budo | Actor |
| 6 | Puraano Chasmaa | Actor |
| 7 | Babu Ko Chahanaa | Actor |
| 8 | Redaio Nepali Drama | Actor |
| 9 | Chi musi chi | Producer |
| 10 | Hijo aaj ka kura | Actor |
| 11 | Tito satya | Actor |
| 12 | Parkhal | Actor |
Personal life
Pandey currently lives in San Francisco with his one kid Melvin, and his daughter, Monsoon died in 2022.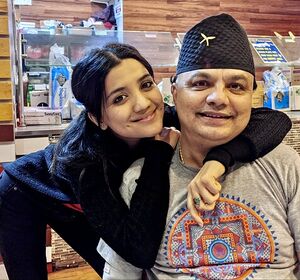 Gallery
In the media
References
External links