Martin Bidney
Jump to navigation
Jump to search
Martin Bidney

Born


April 21, 1943
Nationality
American
Citizenship
United States
Alma mater
Occupation
Organization
Binghamton University (Professor Emeritus)
Height
5 ft 5 in (165 cm)
Children
1
Parents

David Bidney (father)
Evelyn Bidney (mother)

Awards
SUNY Chancellor's Award
Website
martinbidney.org
Martin Bidney (born April 21, 1943) is an American poet, translator, scholar-critic, wordsong reviver, podcaster, and professor. He is Professor Emeritus of English and Comparative Literature at Binghamton University.[1][2][3]
He is widely recognized for his contributions to the field of literature, particularly in the realms of epiphany analysis and dialogic poetry. With a career spanning several decades, Bidney has authored numerous poetry books and translations, showcasing his command of multiple languages and poetic forms.[4] Some of his most notable works include "Shakespair:Sonnet Replies to the 154 Sonnets of William Shakespeare," "The Heart of Giordano Bruno," "Alcaic Adventurer, "Asclepiad Explorer," "Sufi Lyrics in the Egyptian Desert," "The Rumi Interview Project," "A Lover's Art, "A Music Lover's Art," "Persian Poetic Renaissance," "Goethe's West-East Divan with Commentary Verses," "Owed to Omar," "Blake and Goethe," "Patterns of Epiphany," a translation of eight collections of verse by Nikolay Gumilyov, and Pushkin's Verse Novel 'Eugene Onegin': A Dialogic Verse Translation."[5][6]
Early life and education
Bidney was born in New York City, New York, United States, to David and Evelyn Bidney. Bidney early exhibited a deep passion for literature and languages. He obtained his bachelor's degree from Indiana University, Bloomington in 1963, majoring in Russian language and literature. During his undergraduate years, Bidney exhibited his musical talents as a devoted classical violinist and accomplished Celtic and klezmer fiddler. He obtained a master's degree in Russian from Harvard University in 1965. In 1971, Bidney completed his doctorate in English at Indiana University.
Career
Bidney has had a 35-year career in the field of education, primarily at Binghamton University in New York.[7] He joined the university as an instructor in 1969 and progressed through the ranks, serving as an assistant professor from 1971 to 1977, an associate professor from 1977 to 1989, and eventually attaining the position of professor of English and comparative literature in 1989. In 2004, Bidney retired from Binghamton University, or better, "rewired," since he has published 46 books of verse in the last 19 years. He is founder and editor of Dialogic Poetry Press. In translating verse, Biidney preserves the formal integrity of the original works as he faithfully renders the rhyme schemes, rhythm structures, and stanza forms of the poems he renders into English works of wordsong.[8]
Bidney has pioneered, indeed invented, a genre he calls Verse Translation with Interview (VTI), where he engages in poetic conversations with renowned poets from different cultures and historical periods. The dialogic approach allows him to reply to the greatest lyrical masters in the lyrics forms they loved the most.[9]
In his book "Shakespair," he engages in poetic conversations with all the 154 Shakespearean sonnets written by the renowned playwright himself in the 1590s. This unique verse interview format is an unheard-of experiment in poetry writing. He has similarly dialogued with the Qur'an, Virgil, Rumi, Hafiz, Omar, Angelus Silesius, Pushkin, and Giordano Bruno.
Throughout his career, Bidney has embarked on various dialogic projects, engaging with poets from different cultures and time periods. In "East-West Poetry," Bidney replies to passages from both the Qur'an and the works of Rumi, weaving together diverse poetic traditions. His book "Poems of Wine and Tavern Romance" features dialogues between Bidney and Hafiz, a 14th-century Persian pub poet. Bidney's translations of Hafiz are based on the same version used by Goethe, who called Hafiz his twin brother.
Furthermore, Bidney has translated Goethe's monumental work, the "West-East Divan," which comprises 240 lyrics. In response to each of Goethe's lyrics, Bidney wrote conversational reply poems, creating a captivating colloquy. He also collaborated with the celebrated Polish poet Adam Mickiewicz, presenting a dialogue book that juxtaposes Mickiewicz's newly translated "Crimean Sonnets" with Bidney's own sonnets composed in response.
Beyond his contributions as a translator and poet, Bidney's fascination with revelatory writing led him to explore the epiphanies of numerous authors. He developed a unique method of analysis, which he first applied in his work "Patterns of Epiphany," and has since utilized this approach with over 20 writers, including Ibn Arabi in Bidney's fascinating preface to his interpretive sonnet-collection "God the All-Imaginer."
As of 6/10/23 Bidney had published a total of 46 books of poetry and poetry translation, plus two books of literary criticism and an Audible version of "Shakespair," with Bidney as narrator/reciter.[10]
He has also extensively contributed to academic journals such as the Slavic and East European Journal, the Byron Journal, Mississippi Quarterly, Studies in Comparative Literature, Studies in Victorian Poetry, Studies in Romanticism,, and Studies in Short Fiction. He has authored more than 150 articles and reviews, showcasing his profound understanding of literature and his commitment to scholarly research.
Bidney also serves as the host and lecturer-reciter (dramatic actor) for The Be-Loving Imaginer podcast, focusing on three core values: intercultural imagination, wordsong as a modern troubadour's calling, and creating a contemporary scripture. Through workshops and verse interviews, Bidney shares his daily verse-creating interactions with mentors, offering a poetic life that combines melodic form and intercultural content.[11]
Personal life
Bidney currently resides in Vestal, New York, and has a daughter named Sarah Combellick-Bidney.
Bibliography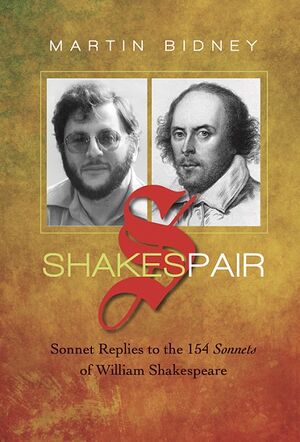 Wordsongs for Music: One Hundred Original Poems (August 2023)
No Lovelier Melody Ever Was Known: A Month of 96 Poems in Amphibrachic Tetrameter Catalectic (February 2023)
Asclepiad Explorer: Ninety-nine Poems and Four Songs (January 2023)
More Four!: Four Beats, Four Lines, Four Stanzas (November 2022)
Alcaic Adventurer: Ninety-nine Poems and Five Songs (October 2022)
High Five! The William Shakespeare Beat Is Back!: Four Hundred Newly Written Poems Prove It! (August 2022)
Book of the Heaven Eleven: A Rhythm Pattern for Three Months of Turning Difeleth to Lartife, with Blogatelles (May 2022)
The Heart of Giordano Bruno:New Poems Interpreting Highlights of His Book "The Heroic Enthusiasms" (March 2022)
Modern Psalms in Ancient Rhythm with Brief Commentaries in Verse and Prose (February 2022)
Persian Poetic Renaissance: Lyrics by Fifteen Sufi Poets in "Verse Interviews" (December 2021)
Shi-Jing, or Book of Songs: China's Earliest Verse Anthology (October 2021)
Owed to Omar: Adventures with a Persian-style Quatrain—100 Original Poems with Blogatelles (July 2021)
Alexander Pushkin's Verse Novel 'Eugene Onegin': A Form-True Dialogic Verse Translation with Lyrical Replies and Supplements (April 2021)
Wordsongs of Jewish Thought: One Hundred Eight Tanya Response Poems (January 2021)
The Eclogues of Virgil, Ancient Roman Country Poems in Their Original Rhythm, with Dialogue Replies in Verse (November 2020)
Indian, Persian, Arabian Poetic Treasures: Form-Faithfully Rendered from Friedrich Rückert with Dialogue Replies in Verse (September 2020)
Six Beat Sonnet Treats: Intricate, Elegant Gifts for You (June 2020)
Metamorphoses and Me: Interviewing Ovid: From Genesis to Apocalypse in 80 Sonnet Dialogues (April 2020)
A Music Lover's Art: Wordsongs About Musical Compositions (January 2020)
Sufi Lyrics in the Egyptian Desert: ninety poems in modified omar quatrain form (October 2019)
The Rumi Interview Project: 99 Poems from the Methnewi: Form-faithfully Translated from the Lyrical Versions of Tholuck with Original Sonnet Replies (August 2019)
Book of the Dactyl: Third Journal in Verse: Including Poem-Dialogues with the Witty Mystic Angelus Silesius (June 2019)
Book of the Anapest: Second Journal in Verse (February 2019)
Book of the Amphibrach: A Feast of Word Song, with Notes (October 2018)
Book of the Floating Refrain: Tone-Crafted Poems with Blogatelles (July 2018)
Bliss in Triple Rhythm--A Toolbox for Poets: Nine Ways to Shape A Word Song: Shown in 300 Original Poems (MArch 2018)
A Treat Not Known Before: German-American Poetic Dialogues in Ancient Rhythms(2017)
Rilke's Art of Metric Melody: Form-Faithful Translations with Dialogic Verse Replies (2017)
A Hundred Villanelles / A Hundred Blogatelles (July 2017)
A Hundred Artisanal Tonal Poems: Slimmed-down Fourteeners, Four-beat Lines, and Tight, Sweet Harmonies, with Blogs on Facing Pages (January 2021)
A Lover's Art: The Song of Songs in Musical English Meters, plus 280 Original Love Poems in Reply - A Dialogue with Scripture (March 2017)
A Treat Not Known Before: German-American Poetic Dialogues in Ancient Rhythms (December 2017)
Six Dialogic Poetry Chapbooks: Taxi Drivers, Magritte Paintings, Gallic Ballads, Russian Loves, Kafka Reactions, Inferno Update (October 2016)
Russia's World Traveler Poet: Eight Collections by Nikolai Gumilev. Romantic Flowers, Pearls, Alien Sky, Quiver, Pyre, Porcelain Pavilion, Tent, Fire Column
God the All-Imaginer: Wisdom of Sufi Master Ibn Arabi in 99 Modern Sonnets, with new translations of his Three Mystic Odes
The Boundless and the Beating Heart: Friedrich Rueckert's The Wisdom of the Brahman Books 1-4 in Verse Translation with Comment Poems (April 2016)
Shakespair: Sonnet Replies to the 154 Sonnets of William Shakespeare (February 2016)
A Unifying Light: Lyrical Responses to the Qur'an (February 2016)
Like a Fine Rug of Erivan (2013)
Poems of Wine and Tavern Romance: A Dialogue with the Persian Poet Hafiz (October 2013)
Divine Adventure: The Fantastic Travels of Dante (January 2012, out of print)
West-East Divan: The Poems, with "Notes and Essays": Goethe's Intercultural Dialogues (December 2010)
East-West Poetry: A Western Poet Responds to Islamic Tradition in Sonnets, Hymns, and Songs (January 2009)
A Poetic Dialogue with Adam Mickiewicz: The "Crimean Sonnets" Translated, with Sonnet Preface, Sonnet Replies, and Notes (January 2007)
Patterns of Epiphany: From Wordsworth to Tolstoy, Pater, and Barrett Browning (August 1997)
Blake and Goethe: Psychology, Ontology, Imagination (January 1998)
In the media
References
External links