FutureVault (digital vault)
Jump to navigation
Jump to search
FutureVault, Inc.
Private
Industry
Software
Document Management
Digital vaults
Founded
2014
Founders
Brad Rosenberg
G. Scott Paterson
Michael Bradley
Headquarters

Toronto, Ontario

,

Canada

Area served

Worldwide

Key people

John D. Orr (CEO)
G. Scott Paterson (Chairman)
Michael Bradley (CMO)
Rudy Sankovic (CFO)
Luke Kyleman (CTO)
Brad Rosenberg (CPO)
Products
Digital Vaults, White-label Document Management Platforms
Website
https://www.futurevault.com/
FutureVault is a Canadian based software development company that provides organizations with a secure, cloud-based, white-label document management platform that provides enhanced document management functionality.[1][2][3] FutureVault's digital platform is commonly known as a digital vault.[4][5] The company's technology is primarily used in banking, financial services, family offices, law, insurance, healthcare, real estate and government markets.[6] It was named as the safety-deposit box of the future by The Globe and Mail.[6]
History
FutureVault was founded in Toronto, Canada in 2014 by Brad Rosenberg, Michael Bradley and G. Scott Paterson.[7] In 2017, John D. Orr joined the company as its CEO, Rudy Sankovic as CFO and in 2018 Luke Kyleman joined as CTO.[8]
Platform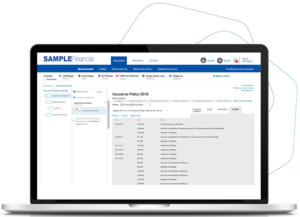 Futurevault is a comprehensive cloud-based, white-label digital vault SaaS, also known as DM or document management platform.[9]
Security
FutureVault leverages Amazon AWS's data centers which comply with the strictest security and privacy standards such as PCI/DSS and ISO 27001. Cyber security best practices are honored through the platform following the Center for Internet Security (CIS) standard and end to end encryption. FutureVault actively monitors infrastructure security through an intelligent threat detection system to protect data. The platform uses Symmetric 256-bit Advanced Encryption and Asymmetric 2048-bit TLS 1.2 standard.
Awards
8th Annual Toronto Business Excellence Awards (BEAs).[10]
Winner for Smart Solutions:FutureVault Inc.
Futurevault in media
Referenecs
External links
This article "FutureVault (digital vault)" is from Wikipedia. The list of its authors can be seen in its historical. Articles taken from Draft Namespace on Wikipedia could be accessed on Wikipedia's Draft Namespace.