Christian Farioli
Jump to navigation
Jump to search
Christian Farioli

Born

Christian Antonio Farioli


June 23, 1976
Nationality
Italian
Citizenship
Italy
Education
Master in International Business Studies
Alma mater
Dublin Business School
Occupation

Digital Marketing Lecturer
Digital Transformation Advisor

Years active
2001- Present
Known for
Creating digital marketing strategy to boost sales and marketing
Height
175 cm (5 ft 9 in)

Spouse(s)

Gianna Gabriel
Website
christianfarioli.com
Christian Farioli (born June 23, 1976) also known as Prof. Christian Farioli, is an Italian digital marketing lecturer, keynote speaker, digital marketing expert, consultant, and Digital Transformation Advisor.[1] Farioli has been recognized for developing WALT$ System, a successful digital marketing strategy based on Traffic, Windows, Sales-system, Analytics and Loyalty-advocacy, that works long term without any impact of change in search algorithms. He is considered as a pioneer in digital marketing and has trained over 10,000 executives for companies including Armani, Bayer, Huawei, Abu Dhabi Media, Adnoc and others. Farioli speaks frequently at conferences and industry events on the topics of digital marketing and digital transformation, he has spoken at over 50 conferences including Google and NASA.[2]
Christian Farioli was awarded Digital Agency of the Future and has been a Digital Marketing Pioneer since 2003. He holds over ten certifications from Google, Hubspot and other digital marketing platforms. Farioli has worked with several Fortune 500 companies and has also served as Sales and Marketing Director of conglomerate, Al Habtoor.
Christian Farioli has also authored the book "The Pizza Guide to Digital Marketing" and co-authored  "Disciplina per la vita". He frequently delivers lectures at various institutes, and creates digital marketing strategy to boost sales and marketing. Farioli is also a member of the Inner Circle of Middle East Online Marketing Community, an élite professionals' group that counts about 6000 experts.[3]
He has expertise in display advertising, web analytics, PPC/SEM, SEO, mobile marketing and internet marketing. Christian Farioli is widely praised and covered in news outlets as a Tech enthusiast as he led the team for the first company in Europe, ORACLE to implement Google Adwords campaign. He collaborated and implemented digital marketing  strategy to SOP, the SIRIO Operating System. Farioli is known to frequently deliver lectures at various institutes, and creating digital marketing strategy to boost sales and marketing.[4]
Education
Christian Farioli received his diploma in Industrial Computer Science from I.T.I.S. Busto Arsizio in 1995. Farioli graduated in 2001 from the Politecnico di Milano, with a degree in Computer Science Engineering. His final thesis focused on the topic of "Web Usability". His academic curriculum continues at the Dublin Business School, where he completed masters in International Business Studies in 2004.
In 2007, he followed Anthony Robbins' seminar Unleash the Power Within: 2007 Peak Performance, Life Skills, NLP and Firewalk Experience.[5][6]
Career
Christian Farioli worked from 1994 to 2003 as a freelance IT and web consultant for several non-profit organizations and transportation and mechanical industries. In 2000, he joined Telecom Italia as a solution pre-sales specialist, where he was a tech mentor for the company's sales agents. He remained with the company for one year and joined Oracle in their Ireland office and in 2005, he moved to the Madrid office. During his time at Oracle, he worked for clients including Telefonica, Vodafone, Fiat, General, Ford, and France Telecom.
In 2007, Farioli moved to Dubai and joined Jamal Al Habtoor Real Estate as their Head of International Sales Department. He was responsible for creating marketing strategies that could drive business for the company. Soon, he was promoted as Sales Director of the company to handle key international partnerships. In September 2008, he joined Al Habtoor Properties, one of Dubai's major conglomerates as its International Sales & Marketing Director. Farioli revamped the company's marketing structure and created a digital marketing strategy that could drive business locally, Gulf Cooperation Council and in the international market. In December 2010, Farioli joined SOP as its Digital Marketing Manager.
Farioli has been working as a freelance digital marketing consultant, specialized in Pay Per Click and Search Engine Marketing. He worked with several agencies and clients, from SME to corporates and GCC Government entities, including banks, car manufacturers, real estate, government and hospitality groups. In October 2012, he took up a lecturing position at the DM3 (former Digital Marketing Institute Middle East), where he teaches digital marketing and many of its ramifications.[7]
His current appointment includes AI and Digital Transformation Lecturer for PwC; Digital Marketing Trainer and Keynote Speaker for Informa Middle East; and CEO of ESD FZC.[8]
Christian Farioli's digital framework, WALTS has been widely covered and adopted by digital marketers. The framework is based on Windows, Analytics, Loyalty, Traffic and Sales Systems.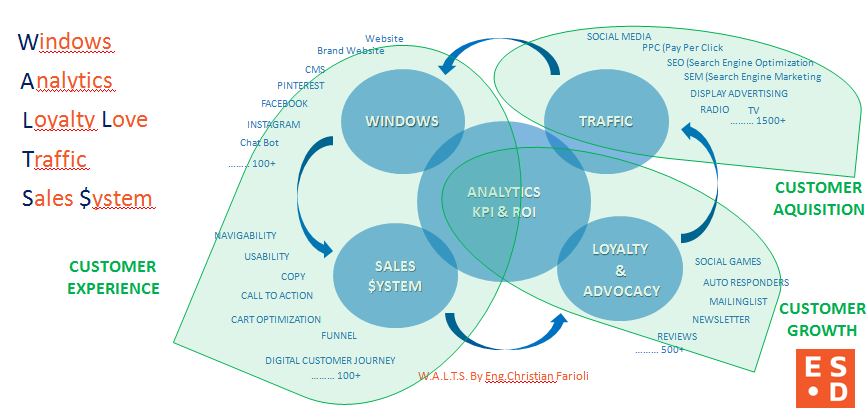 Startups
Farioli has been actively involved with a number of startups including Workbond, an internal social networking platform; TennisCall, Sports Court Management Platform; Jingle Pay, a Neo Bank Super Application. He is always looking for promising startups, and sometimes he is a part of the co-founding teams, as an investor, and as an advisor also.
Speaker
Christian Farioli is seen frequently at conferences and industry events on the topics of digital marketing and is a Keynote Speaker. He has been a digital marketing trainer and keynote speaker for Digital Marketing Institute from 2012 to 2016; and is currently working for Informa Middle East from 2014 to present.
As a keynote speaker and lecturer, Farioli has trained more than 10000 marketing managers.
Digital Marketing Mentor
Farioli has created his name in the digital marketing industry, he has mentored several managers and students to understand the true relevance of digital marketing for the development of their own business, through dedicated mentoring. He closely works with venture capitalists and business incubators such as Turn8 and others.
Digital Marketing Trainer
As a lecturer, Farioli is very active in Dubai and has been teaching at DM3 Institute (former Digital Marketing Institute Middle East). His involvement in the teaching and mentoring community of Dubai extends to Informa. As of April 2020, Farioli has trained more than 10000 marketing managers and government officials across 4 continents.[9]
Philanthropy
Farioli has been actively involved with AidHub.org, a non-profit organization that works for Aid/CSR/Nonprofit organizations to help them raise funding through its global technology platform and help them end-to-end programs and management. Farioli was named as Chief Digital Officer of the organization to help them empower their digital needs and get their voice heard globally.
Awards
Dale Carnagie Human Relations Award (Dale Carnagie Association, October 2002)
Italian Microsoft Terrarium Competition: winner. (Developing Artificial Intelligence with .NET framework). (June, 2002)
Oracle Awards:

ORACLE Innovation Network
Win-Back Customer Bookings
Best Salesman of the Month, February 2005

9 Google certifications.
Publications
2019: The Pizza Guide to Digital Marketing: A Delicious First Byte of the Biggest Business Game Changers of Your Lifetime
2010: Disciplina per la Vita in 12 Semplici Passi[10]
2013: 1 Hour Guide Dubai 2014- All the Secrets![11]
Courses offered
Chief Digital Officer
Digital Marketing Strategy
Digital Analytics
Digital Future of Economy and Future Careers
SEO Search Engine Optimization
Content writing for SEO
SEM/PPC
Digital Display Advertising
Mobile Marketing
Social Media Strategy
Social Media Community Management
Social Media Reputation Management
Social Media Crisis Management
Social Selling
Personal Branding
Digital Transformation
Digital Domination
Digital HR
Digital Transformation in Oil & Gas
AI in Banking & Finance
AI in Oil & Gas
Big Data
Conferences
Christian Farioli has participated in several conferences centered on digital marketing and its role in modern business development. Below are selected conferences[12]
Presenter of id cristal congress
Panelist of CDO Conclave.
Speaker of Legends me [13]
"Getting Smart With ROI: Are You Measuring Results For Your Digital Initiatives?", GITEX 2014, World Trade Center, Dubai[14]
How to Build Digital Brands in B2B", BMAME (Business Marketing Association Middle East), Dubai
Keynote speech: "Integrating digital into your marketing mix", MKTG LIVE, Digiconf 2014, JW Marriott Marquis, Dubai
"How to build digital brands", UAE Franchising Expo, 26 September 2013, Bustan Rotana Hotel, Dubai
"5th GCC Smart government and Cities Portals Conference", Burj Al Arab Hotel, Dubai[15]
"GCC Smart Government Portals Challenges in Achieving: total e-People Involvement (TPI), e-Public Private Partnership (PPP)"
Web 3.0 Internet's Next big wave: Meet in Person the web 3.0 experts in Dubai and Bahrain (Bahrain, November 8th 2012; Dubai, November 10th 2012).[16]
"The New Online Marketing Era in the Middle-East", CETME (2nd Annual Customer Engagement Technology Middle East), The Address Hotel Dubai Mall, Dubai
"Mini Summit De Emprendedores" Online, 4-5-6 November 2014[17]
10 Nov 2016 Dubai Internet City[18]
Future Proof Digital Marketing Strategy at Speak and grow richer event on 29 October 2016 at Burj Al Arab Hotel, Dubai, UAE
Building a brand with digital marketing, 29 October 2016, Dubai chamber, Dubai business women council
Building a brand with digital marketing, 18 October 2016, Dubai World Trade Center
In Dubai chamber mompreneurs
Future Proof Digital Marketing Strategy, 10 November 2016, Internet City, Dubai, UAE
12 November 2016, Mina House Hotel, Cairo, Egypt
How to build digital brands at Brand Summit, 16 March 2016, Crowne Plaza, Bahrain
Judge at GULF CUSTOMER AND DIGITAL EXPERIENCE AWARDS, 18 January 2017, Jumeirah Creekside Hotel, Dubai
Judge at International Business Excellence Awards, 8-9 may 2017, Jumeirah Beach Hotel, Dubai
Speaker at Digital Marketing Africa, 16-17 April 2017, Sudan.
Speaker at Annual Conference of Top Brands in Shopping Centers, 7 September 2018, Tehran
Keynote speaker, 5th edition of annual conference of top brands in shopping centers, 16 August 2018, Tehran
Speaker at 6th Digital Marketing & Tourism Industry Conference, 17 January 2020, Tehran
Licenses and certifications
Google Digital Sales Certification
Informa Digital Marketing Certification
Digital Marketing InstituteCertified Digital Marketing Professional
Microsoft Bing Ads Accredited Professional
Google AdWords Display Certification
Google AdWords Mobile Certification
Google AdWords Search Certification
Google AdWords Shopping Certification
Google AdWords Video Certification
Google Analytics Certification
Google Mobile Sites Certification
Hubspot Inbound Certification
Personal life
Christian Farioli is proficient in Italian, Spanish and English. He has working efficiency in French. Farioli has interest in Italian food, tennis, sailing, snowboarding, and cryptocurrencies. He is married to Gianna Gabriel.
In the media
References
External links