H.E. Sir Patrick Bijou
Jump to navigation
Jump to search
H.E. Sir Patrick Bijou

Born
1958 (age 64–65)


Georgetown, Guyana, South America

Nationality
British
Citizenship
United Kingdom
Alma mater

University of St Andrews
Camden County College

Occupation

Ambassador
Senior Judge
Fund Manager
Author
Academic

Years active
1986 - present
Net worth
$16 Billion (2022)[1]
Website
sirpatrickbijou.com
H.E. Sir Patrick Bijou (born 1958) is a legendary Level 17 Banker and Wall Street Tier 1 Trader, UN Ambassador, Diplomat and Bestselling Author, amongst other high-profile roles.[2][3] Sir Patrick specializes in the debt capital markets, private placements, equities, derivatives and futures trading in the capital markets, as well as structured products. He has worked with multiple leading banks such as Wells Fargo, Deutsche Bank, Credit Agricole CIB, Crédit Agricole Corporate and Investment Bank, Merrill Lynch to name a few and as a Wall Street trader.[4][5][6]
Sir Patrick has over three decade's experience in the financial domain and has worked with numerous prolific clients including governments, banking institutions, and corporations.[7][8] He is also a renowned author and has published over 20 books across several genres.[9]
Early life and education
His Excellency Sir Patrick Bijou was born in Georgetown, Guyana, South America. When he was five years old, Sir Patrick with his family moved to Britain on the acceptance of his father's scholarship. He completed his primary schooling in London and then to pursue higher studies, moved to the USA. Sir Patrick was knighted in 2018 by the authority of the Sovereign Rulers of China and Hong Kong and was awarded a knighthood for banking and his charitable services by the Knights Templar.[10]
Sir Patrick's core competencies include strategic planning, investment banking, financial modelling, financial analysis, portfolio management and project management. He is also a Chartered Financial Analyst Level 1 and holds both FINRA Series 7 and Series 63 licenses. This well-balanced and far-reaching skill set allows him to assess his clients and their financial positions with an expert's eye, identifying with absolute accuracy what the best course of action is to ensure success in business and build a legacy of personal wealth.[11]
In 1978 Sir Patrick enrolled at the University of St Andrews, where he completed his BBA, in Economics. He later also acquired his BBA and MBA degrees from Camden County College, New Jersey USA in 1986.[12]
In 2012 he finally submitted his thesis titled, Impact of Quantitative Easing Measures on Interest Rates, Financial Markets, and Economic Activity: A Case Study of USA to the Department of Finance and Commercial Law of the Haworth College of Business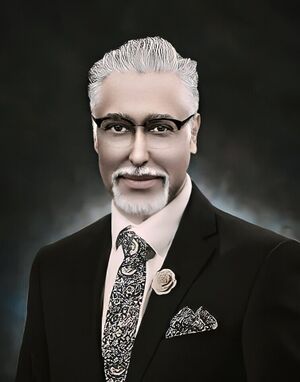 Career
Sir Patrick Bijou started his career in 1986 as a registered private banker at Wells Fargo. He worked for four years there, during which he assumed several roles and was responsible for facilitating peripheral product sales and customer service. In 1990 he became a T1 Banker for Wells Fargo specializing in the debt capital markets, MTNs & Private Placements, and structured products.[13]
In 1992, Sir Patrick joined Merrill Lynch as a financial analyst, where he worked for four years and then moved to France to join Crédit Agricole CIB as a T1 Banker.[14]
In 2001 Sir Patrick started working at Deutsche Bank as a Level 7 banker and analyst. After two years, he became Asset Manager at the Tiger Fund, where he worked for four years.[15]
In 2007, Sir Patrick joined BlackRock as a Fund Manager, where he managed a Sales/Operations platform of 200+ staff.
In 2010 he embarked on his sabbatical and was actively involved in philanthropy and started writing. He is a renowned author today with his first fiction novel published in 2018.[16]
In 2015 he started working as a Fund Manager of LWP Capital a company which he founded, and also became a renowned author and publisher.[17]
Sir Patrick in 2018 was appointed an Honorary High Commander of Europolice Federation Police EUROPOL, European Auxiliary Police Association, Auxiliary Police EU & Asia. In the same year, he also became a Redemption Judge at the International Court of Justice.
In 2021 he was promoted to the post of Senior Sovereign Judge and also became an Ambassador Diplomat at World Peace Tracts and a UN Ambassador. Throughout his career, Sir Patrick has written over 20 published fictional and non-fictional books across several genres. He is also President of the International Banking and Relations of the Commonwealth Enterprise Club. He is the Global Ambassadors for World Peace and Humanity and Justice of the Supreme Council of The International Rights and Welfare Association (IRAWA). Sir Patrick is also UN Ambassador for the Royal Diplomatic Organisation of the United Nations.[18]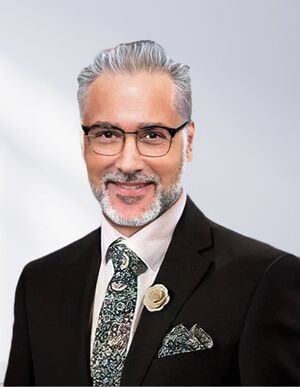 Social contributions
Sir Patrick raises funds for organizations, including Cancer Support Community and Great Ormond Street Children's Hospital Charity and Creative Society, for world peace.[19][20][21][22]
Net Worth
Sir Patrick Bijou is a legendary Level 17 Banker and Wall Street Tier 1 Trader, UN Ambassador and Senior Sovereign Sovereign Judge for the International Court of Justice and the International Criminal Court, amongst other high-profile roles. He is widely considered one of the most successful experts in Private Placement, Private Equity, Leverage, and complex structured products. Sir Patrick managed and founded the Tiger Fund that achieved an average annual return of 30% from 1988 to 2002. He remains a consultant and advisor to governments, the treasury, the World Bank and institutional mainstream banks and offers his advice and investment services to SMEs and project funding.[23][24]
The South American born Sir Patrick is also known for his philanthropic activities. He has donated millions of dollars to various causes through his foundations and charities. He is a long-time champion of progressive, humanitarian, and socio-economic causes.[25][26][27]
His Excellency Sir Patrick Bijou is believed to be worth an undisclosed sum, but his estimated wealth is several billion as of 2021, and he has donated more than $50 million to charitable causes. Much of that money has gone to fund education and health programs, human rights efforts, and the furtherance of democracy. In recent years, he has donated funds to create missions in his native South America, where he has established infrastructure, hospitals, medical care and schools for the indigenous Amazonian Indians in memory of his late mother, Easter an Amerindian herself.
Books
References
External links