Nik Parekh
Jump to navigation
Jump to search
Nik Parekh

Born



Mumbai, Maharashtra

January 31, 1981
Nationality
Indian
Citizenship
India
Education
Diploma in Graphic Design
Bachelor of Fine Arts (specialization in Service Design/Business Design)
Alma mater
Cambrian College
Savannah College of Art and Design
Occupation
Author
Strategic designer
Known for
The Future of Extraordinary Design (Best selling book)

Spouse(s)

Nadia Skovorodneva
Awards
One Show Design Award
WPP Group Award
Gold for Best International TV Commercial INS Think Print Award
Red Dot Award
European Product Design Award
Website
https://www.nikparekh.com/
Nik Parekh[1] (born 31 Jan 1981, Mumbai, India) is an author and strategic designer. He is best known for his best selling book, The Future of Extraordinary Design[2]. Parekh worked as a Strategy Lead for Samsung NEXT on finding the next big thing.
Early life and education
Parekh was born in Mumbai, India. He received a Diploma in Graphic Design from Cambrian College of Applied Arts from Canada. He then enrolled in Savannah College of Art and Design for a Bachelor of Fine Arts degree with specialization in Service Design/Business Design. Parekh has also been known animal rights activist.
Career
Parekh began his career at Ogilvy & Mather in 2004 as an art director. Thereafter, he joined J. Walter Thompson as a Senior Art Director in 2007. He worked for one year at Fp7 Mccann as a Creative Group Head. In 2010, Parekh co-founded and Business Designer at ThatsIt Inc. He worked for Toc Tic as a Business Designer & Product Manager in 2015. In 2017, he joined the service designer for six months. He worked as a Senior Service Designer for Chase in 2018. In 2018, Parekh joined Samsung NEXT[3] as a Design Strategy Lead.
Bibliography
Parekh, Nik (2019-12-01). The Future of Extraordinary Design: Where are we going and how will we get there?. PUDDY TAT LLC. ISBN 978-1-5439-9312-7. [4]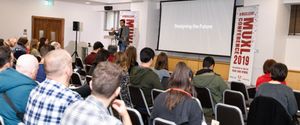 Achievements
2005- One Show Design Award- Design 1st Merit for Ashutosh Parikh
2005- WPP Group Award - Won a Silver for Film to promote short film festival
2005- Gold for Best International TV Commercial INS Think Print Awards for Fevicol at AAAI Mauritius
2017- Red Dot Awards at Thunderbird Inn
2017- European Product Design Award at Thunderbird Inn
Personal Life
Parekh currently resides in San Francisco CA. He is married to his wife Nadia Skovorodneva.
Media appearances
External Links
References
This article "Nik Parekh" is from Wikipedia. The list of its authors can be seen in its historical. Articles taken from Draft Namespace on Wikipedia could be accessed on Wikipedia's Draft Namespace.