Millac Foods (Pvt.) Ltd
Jump to navigation
Jump to search
Millac Foods (Pvt.) Ltd
Industry
Dairy products
Founded
1967

Key people

Farrukh Ikram (CEO)
Abdul Bari Qureshi (COO)
Murad Ikram (Director)

Website
millacfoods.com
Millac Foods is a Pakistani food company producing a variety of dairy products, with headquarters in Karachi, Pakistan.[1] It is one of the only manufacturers of sweetened condensed milk and has a range of dairy products catering to the needs of consumer and industrial segments.[2][3]
History
Millac Foods was initially established in 1967 as Pakistan Milkfood Manufacturers Ltd. by the Horlicks brand of England, in a small town named Jhang, in Pakistan. A small part of the company was owned by a local family, who later bought the entire company in 1970, and was authorized to use the brand name Horlicks for certain period of time. Headquartered in Karachi, Pakistan, the company is currently being helmed under the leadership of CEO Farrukh Ikram.[4]
In 1973, the company started importing high-quality fat milk powder from the UK under the brand name Millac and rebranded the company to Millac Pakistan (Pvt.) Ltd. In 1986, the company invested in developing a sweetened condensed milk plant and launched the brand Comelle, which remains to be the market leader till today in the sweetened condensed milk category.[5]
In 1999, the company invested 500 million PKR in establishing a milk powder manufacturing plant at Manga, Punjab, Pakistan, and established the name Millac Foods (Pvt.) Ltd. In 2003, diversifying its existing portfolio, the company launched Skimillac, a leading brand in the skimmed milk category.[6]
In 2003, the company relaunched Comelle, by redesigning its packaging and plastic lid. The company also introduced a sachet for Comelle sweetened milk. Under the brand Comelle, the company further launched Comelle Khalis Desi Ghee.
In 2006, Millac became an FDA and ISO 9001-2000, ISO 14001-2004 & HACCP Certified Company. In 2008, the company invested in developing a pasteurized milk plant and launched a range of products such as yogurts, butter, raita, and fruit yogurt. In 2011, the company further enhanced its accreditation by getting a PSQCA certification.
During the year 2016, the company introduced full cream milk powder, under the brand Comelle. In 2018, the company launched Tea Millac, a product that qualified as a tea whitener. In 2019, the company acquired PFA certification.
Millac Foods adheres to maintaining the quality of its products by ensuring proper collection of milk from large commercial dairy farms, the collected milk is stored at 4 degrees celsius to ensure its shelf life, and it goes through 21 quality test checks before being used to manufacture dairy products. The company operates through a team of well-qualified and trained personnel and ensures safe and hygienic production facilities at its premises.
Manufacturing facilities
Millac Foods operates through two manufacturing plants located in Lahore and Karachi. Manga plant located in Lahore is known for its evaporation and drying section. The main products manufactured at this plant include milk powders, desi ghee, sweetened condensed milk, butter oil, butter, and malted milk powder. The plant currently operates at an installed capacity of producing 9000 tonnes of milk powder annually.[7]
Millac Foods operates another plant in Pakistan's premium industrial and financial sector, Karachi. The company has installed a pasteurization plant in the Korangi industrial area. The plant produces several varieties of Yogurt only for Karachi.
Product portfolio
Millac Foods manufactures a range of consumer and industrial milk products. Some of the products produced by the company are
Full Cream Powder
Fat Filled Powder
Instant Skim Milk Powder
Tea Whitener
Coffee Whitener
Desi Ghee
Amf
Sweetened Condensed Milk
Meadows
Malted Milk
Plain Butter
Salted Consumer Butter
Unsalted Consumer Butter
Fresh Pasteurized Cream
Nutri Help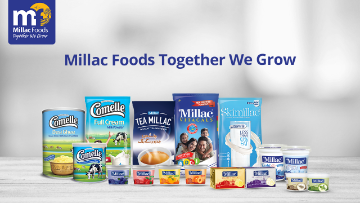 Accreditations
Various certifications and accreditations held by Millac Foods are as follows:
FDA- U.S Food & Drug Administration
ISO 9001-14000
FSSC 22,000
BVQI HALAL Accreditation
Pakistan Standards of Quality Control Association
Punjab Foods Authority
This profile is managed by Digi Persona PVT LTD.[8]
In the media
References
External links